Bipasha Basu (born: January 7, 1979) is a former model and currently one of the leading female actors in the Bollywood. The 39-year old dusky beauty is a fitness enthusiast who has always laid stress on having a fit and toned body. Bipasha abstains from bad habits such as drinking and smoking and follows a strict weekly workout routine that she does not skip. Such is her devotion to keeping herself fit that she takes her trainer whenever she goes for an outdoor shoot.
Launch of Workout DVDs
Physical fitness has always been vital in Bipasha's life, as she owes a fair bit of her success and achievements to her beautiful, glamorous body. The Bengali "sex symbol", as referred to in the media, not just makes women jealous of her sculpted physique but also inspires everyone to become physically fitter.
Her passion for fitness saw her releasing "Love Yourself", a fitness DVD that focused on being healthy and strong. It also included a 60-day workout regimen for weight loss. The success of the first DVD inspired her to launch the second DVD in 2011 titled "Break Free" that featured a 30-minute dance workout. The much-awaited third DVD, titled "Unleash" was launched in January 2014. It focused on an advanced training involving plyometrics that help improve muscle coordination and strengthen bones.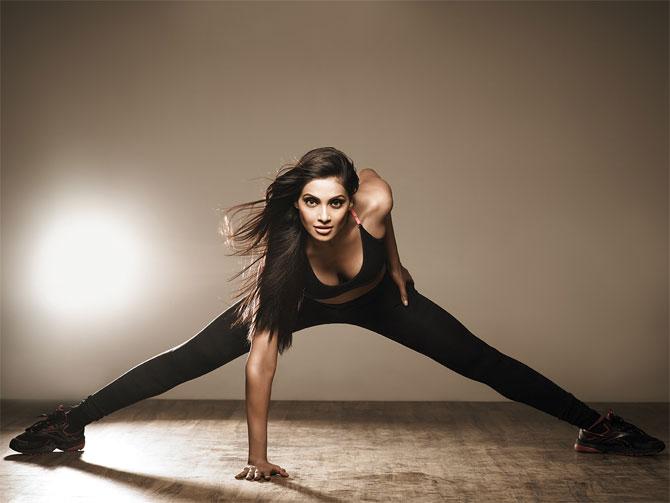 Bipasha Basu Diet Plan
A well-balanced diet and a strict exercise routine – this is the secret to Bipasha's perfectly toned body. Let us have a look at her diet
Early morning: Drinks a glass of water with lime, followed by having some almonds soaked overnight, and then a cup of tea.
Breakfast: She likes to have a big breakfast comprising six egg whites, toast, mushroom, porridge made from skimmed milk, and a fair amount of fruits.
Lunch: What is surprising is that in spite of being a Bengali, she opts to avoid eating rice. Her lunch is simple, and it comprises dal, green salad, vegetables, grilled fish or chicken, and two soy chapattis.
Dinner: Vegetables prepared in olive oil, green salad, grilled fish or chicken, and a small amount of dessert to satisfy her sweet tooth.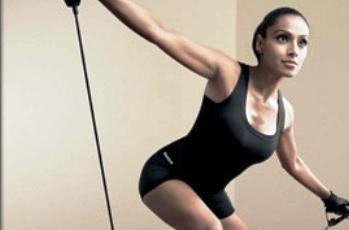 Bipasha Basu Workout Routine
As told by Paul Britto, the personal trainer of Bipasha, the dimpled Bengali beauty is the fittest among most female actors in the B-town. Bipasha has admitted that she was not such a fitness freak during her modeling days but has concentrated on fitness training recently. In fact, the Bollywood star is obsessed with not just the cardio exercises but also disciplined Yoga. She is so much passionate about Yoga that she does 108 of Surya Namaskar every day. Her regular workout program lasts for 2 hours, and it includes a combination of cardio and Yoga. This has helped her to achieve such a toned figure, as also an increase in muscle mass.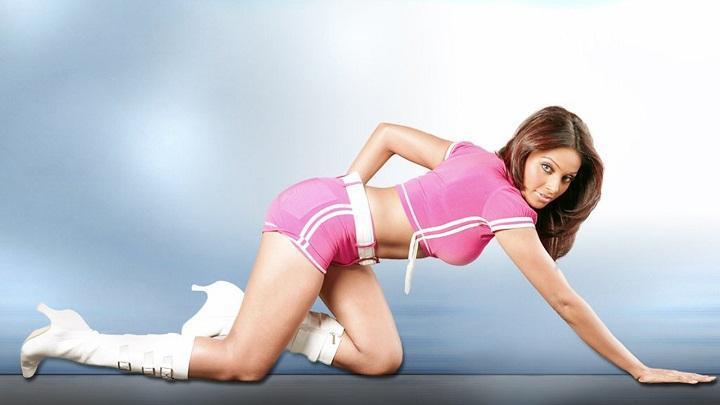 Bipasha Basu Body Statistics
Height: 1.70 m (5' 6")
Weight: 137 lbs (62 kg)
Bust: 36"
Waist: 28"
Hip: 36"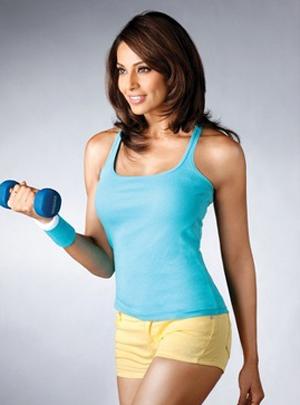 Bipasha Basu Workout Schedule
Bipasha finds it monotonous to do the same set of workouts every day. Therefore, she tries to mix up a lot of modern exercise techniques and devise a workout regime that is geared towards her goal.
Monday: Upper body workout
Tuesday: Abs workout
Wednesday: Lower body and legs
Thursday: Gluteus Maximus workout for shaping the butts
Friday: Upper body workout
Saturday: Combination of abs and Gluteus Maximus exercises
Sunday: Rest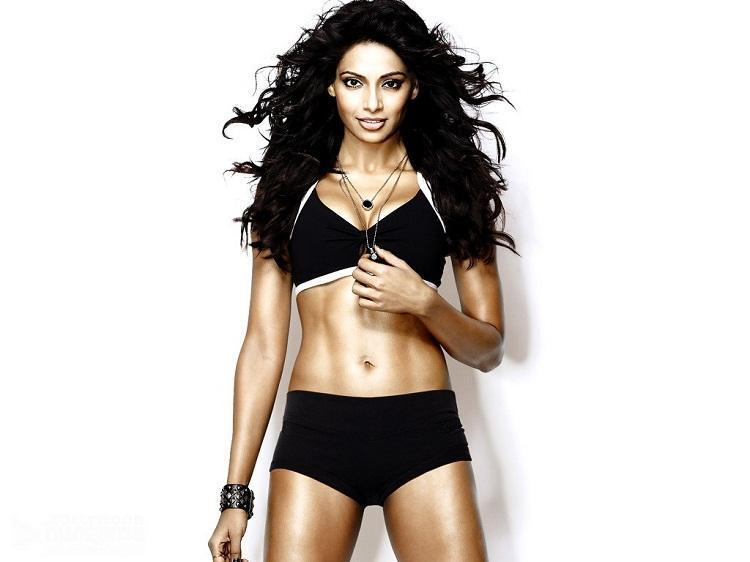 The cardio workouts are spaced out as follows
Treadmill: 20 minutes
Elliptical Trainer: 10 minutes
Rowing Machine: 20 minutes
Bipasha Basu Fitness Tips
Discipline is important if you want to lead a healthy lifestyle. In order to set up an effective fitness routine, you must have a disciplined approach.
Slimming pills or weight-loss diets will not give you long-term effects, but a well-devised regular exercise regimen will eventually show wonders.
Drink plenty of water, as it will help in cleansing your system and keep your skin healthy.
Instead of sticking to any one kind of workout format, keep changing it according to your fitness goals.
Avoid eating junk foods.