Today, our lives have become a race towards everything. A race towards the office, a race towards success, a race towards being the best. This results in most people missing, what is in my opinion, the most important meal of the day; a healthy and wholesome breakfast. So if we barely have the time to eat healthy ourselves, how do we give our kids the right and balanced amount of nutrients to stay healthy? Luckily, there are numerous healthy (not to mention delicious!) breakfasts on the go, for you and your kids to enjoy.
Shakes and Smoothies
I'm a huge fan of shakes and smoothies, because it combines all the goodness in one single glass or to – go cup. And the best part is that the kids love it too!
Skinny Chocolate Peanut Butter Banana Shake
So here's one I found it on The Messy Baker Blog, which is a lovely combination of chocolate, peanut butter, bananas, and Greek yoghurt. I. It takes all of two minutes to make, and here's the recipe:-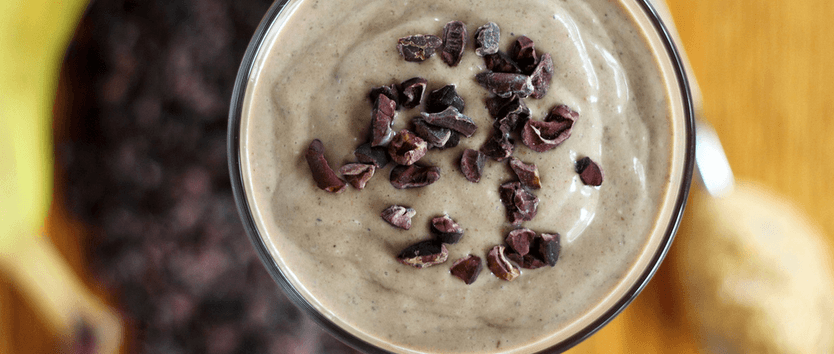 Ingredients:-
1 frozen banana (no substitute)
1/2 cup light vanilla or chocolate almond milk
1 tablespoon cocoa powder
2 tablespoons fat-free Greek yogurt
2 tablespoons peanut butter
1 teaspoon agave or honey
Directions:-
Place all of the ingredients in a blender. Blend until smooth and creamy. If the shake is too thick, add a little more almond milk.
Matcha Vanilla Smoothie
Matcha is a fine green tea powder, which originates from Japan. You can find matcha quite easily at any organic food store, or even any Asian market nearby. I have a friend from Japan who sends it to me regularly, which gave me the idea to try out this recipe from Love & Lemons:-
Ingredients:-
2 bananas, frozen
1 cup almond milk
Matcha powder – a few teaspoons to a few tablespoons, depending on your preference
A few drops of vanilla essence
A few handfuls of ice
Honey, agave, or sweetener of choice (optional)
Instructions:-
Blend everything together. Taste & adjust to your liking. Add some sweetener if you wish.
Strawberry Shake
Being a fitness instructor, protein powder is my religion. Of course, for the kids, this isn't required. This strawberry shake is simple, basic, and kids love it.
Ingredients:-
One packet of vanilla or strawberry instant breakfast powder
1 cup low – fat soy milk
A frozen banana
A few teaspoons of honey or agave, depending on your preference
A scoop of protein powder (only for adults)
Directions:-
Combine all the ingredients in a blender and blend to a smooth mixture.
Fruit and Yoghurt Smoothie
Ingredients:-
1 cup plain Greek yogurt
1 cup frozen fruit (banana and berries are ideal)
1/2 cup liquid (milk, juice, coconut water).
Directions:-
Blend the ingredients together. Freeze overnight and thaw throughout the day to enjoy in the afternoon, or blend up in the morning.
Egg-Based Recipes
Eggs are a huge source of protein and essential nutrients, especially for kids. Here are a few delicious and quick concoctions for them to enjoy.
Egg, Tomato, and Scallion Sandwich
This is a recipe I found on Gina's Skinny Recipes, when I was craving something with eggs in it. Here's how to make it:-

Ingredients:-
100 calorie sandwich roll
1 tablespoon chopped scallions
1 large hard-boiled egg, sliced
1 tablespoon light mayonnaise
1 thick slice ripe tomato
Salt and fresh cracked pepper to taste
Directions:-
Assemble the sandwich by placing the egg on the bread, then the tomato, then scallion. Top with salt and pepper and spread mayonnaise on the top of the bread.
Egg Sandwich
Ingredients:-
A handful of fresh spinach leaves
Two eggs
One whole-wheat English muffin, or toasted bread
One slice of cheddar cheese
1 thick slice ripe tomato
Salt and pepper to taste
Directions:-
Sauté the spinach and fry 2 eggs with a dash of salt and pepper. Cut the English muffin in half, and place this mixture on each half, with the slice of cheddar cheese.
Egg Cheese Cups
This a great brunch time recipe, which I found on Glow Kitchen. It takes slightly longer to make than most quick recipes, but kids especially love this one:-
Ingredients:-
6 eggs
1 white onion
1/2 teaspoon thyme
1/2 teaspoon salt
1/4 teaspoon pepper
1 tablespoon butter
3 cherry tomatoes
2 tablespoons cheese
Fresh thyme for garnish
Directions:-
Chop the onion and sauté it in a saucepan over medium heat with butter, dried thyme, salt and pepper. Once translucent, evenly distribute the onions across 6 muffin tins.
Crack one egg on top of the onions and into each muffin tin.
Slice the cherry tomatoes in half and add one half to each egg.
Add 1/2 teaspoon of soft cheese to each tin.
Grind pepper atop each tin and pop the pan into the oven at 400 degrees Fahrenheit for 10 minutes or until the eggs have cooked to your liking.
Serve with fresh thyme.
Breakfast Burrito
I've always loved the classic breakfast burrito. They are an easy snack to make and carry for kids, not just for breakfast, but for any time of the day.
Ingredients:-
2 scrambled egg whites
1/4 cup black beans
2 tablespoons salsa
2 tablespoons shredded cheese
1 small whole-wheat tortilla.
Directions:-
Combine the egg whites, black beans, salsa, and shredded cheese in a bowl. Mix well, and wrap in the whole-wheat tortilla.
Oat and Granola Based Recipes
Oats are a superb source of fiber, specially recommended for individuals with cholesterol. It's also a very filling and healthy breakfast for kids. Granola, which is an extension of oats (it's a combination of rolled oats, nuts, and honey, baked until crisp), is something kids really love. Here are some recipes they will enjoy.
Overnight Oats
This is a breakfast meant for those days when you know you have to dash through the door. Here's the recipe:-
Ingredients:-
1/2 cup milk
1/3 cup rolled oats
1/2 a mashed banana
1/4 cup chopped nuts
1/2 teaspoon of powdered cinnamon
Directions:-
The night before, combine all the ingredients in a sealed Tupperware container. The next morning, heat in the microwave for 1-2 minutes, and consume while warm.
Apple Sandwiches with Almond/Peanut Butter and Granola
This is a recipe I found on Garnish With Lemon, when I'm in a mood for something sweet:-
Ingredients:-
1 apple, cored and sliced into rings
Almond butter or peanut butter, as per your preference
A handful of granola
Directions:-
Generously spread almond butter on one apple slice. Sprinkle the granola over almond butter and top with another apple slice. Repeat using remaining apple slices and almond butter.
Zucchini Bread Oatmeal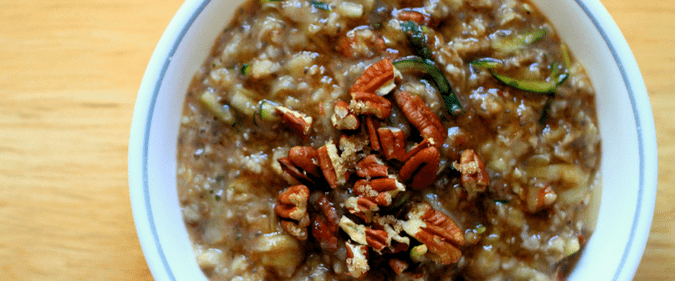 This is a breakfast perfect for when you want to keep warm in a chilly morning. I found it on Oh She Glows:-
Ingredients:-
1/3 cup rolled oats
1 cup non-dairy milk or water (I prefer almond milk as it's creamy), plus more as needed to thin out
1/2-1 teaspoon ground cinnamon
Pinch of salt and nutmeg, to taste
1/2 cup packed finely grated zucchini
1 tablespoon chia seeds or ground flax
1 tablespoon raisins
2 tablespoon chopped pecans
1 teaspoon vanilla extract
1 tablespoon + 1 teaspoon packed brown sugar, divided
1 teaspoon buttery spread
Directions:-
In a medium sized pot, add water or milk, cinnamon, nutmeg, salt, and oats. Bring to a boil and simmer over medium heat, stirring frequently, for about 4 minutes.
Now stir in the grated zucchini, chia seeds, raisins, 1 tbsp packed brown sugar, and 1 tbsp of the pecans. Cook over medium heat, adding more liquid when necessary, for another 5-6 minutes. Reduce heat to low if required. When cooked, remove from heat and stir in vanilla.
Pour into bowl and top with remaining 1 tbsp pecans, 1 tsp packed brown sugar, and 1 tsp Earth Balance. Serve and enjoy.
5 Minute No Bake Peanut Butter Granola Bars
These granola bars are great snacks for kids, and even for adults when they need reenergizing. I found the recipe on Fannetastic Food, and here it is:-
Ingredients:-
1 & 3/4 cup rolled oats
1 cup crisp puffed brown rice cereal
1/4 cup pumpkin seeds
1/4 cup sunflower seeds
1/4 cup chia seeds, or 1/8 C finely ground flaxseed (both optional)
1/4 cup unsweetened coconut (optional)
1/2 cup brown rice syrup
1/3 cup creamy peanut butter
1 teaspoon vanilla extract (optional)
Directions:-
Add all the dry ingredients to a large bowl. Mix them together.
In a separate (microwave safe) bowl, mix together the wet ingredients, then microwave them for about 20 to 30 seconds.
Pour wet ingredients into dry and mix! Keep mixing until the wet binding ingredients are as well distributed as possible.
Put the mixture into a shallow pan and flatten it down. Place pan in fridge to let the bars chill/set.
After about 30 minutes in the fridge (or you can wait until the next day – whatever works), cut them into bars, then wrap them up in foil and store back in the fridge.
And there you have it! Quick and easy recipes for you and the kids to enjoy a healthy and delicious breakfast