Chris Hemsworth (DOB: 11 August 1983) is perhaps the only actor in recent memory who has successfully changed his body thrice within a span of 2 years for Thor, The Avengers, Rush, and Thor: The Dark World. The 33-year-old star bulked up for The Avengers, then lost weight to play Formula-1 world champion James Hunt in Rush, and again got into a Norse god-like shape for "Thor: The Dark World." Here, we share how the Australian action hero managed to make this sudden transformation.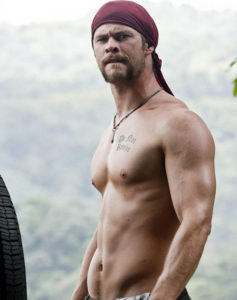 Chris Hemsworth Body Measurements
Height: 6'3"; Weight: 190-209 lbs
Chest: 48"; Waist: 33"
Biceps: 16"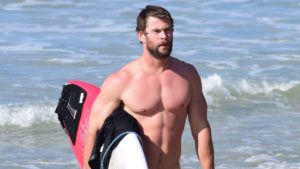 Chris Hemsworth Workout Routine
The key for Chris was to find out the best way to train and eat to achieve the desired results. For his role in Thor, the Aussie superstar trained in the gym under ex-Navy Seal Duffy Gaver. He used traditional bodybuilding techniques to strengthen Chris's arm and shoulder muscles.
After filming "The Avenger," Hemsworth shifted from weight lifting to cardio training in order to fit into the role of the Formula 1 driver. He revealed that shedding 30 pounds in just four months was a nasty thing, but he managed to do so with his constant cardio regimen and a strict diet. However, he re-installed the superhero physique by adhering to protein-packed diet and functional training.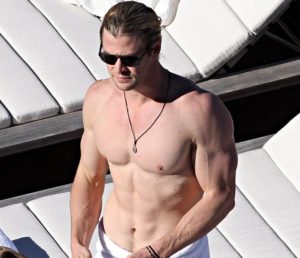 Chris Hemsworth Workout Program
He spent about two hours in the gym every day and mixed up his weight exercises with boxing, plyometrics, CrossFit, martial arts, and more.
Bodyweight Circuit Training
Pullups (3 sets, 15 reps) for lats
Sit-Up (3 sets, 20 reps) for abs
Push-Ups (3 sets, 15 reps) for chest
Front Box Jump (3 sets, 10 reps) for hamstrings
Bodyweight Squat (3 sets, 15 reps) for quadriceps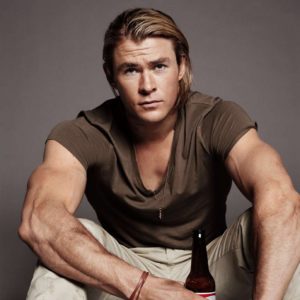 Iron Circuit Training
Barbell Squat (3 sets, 15 reps) for quadriceps
Barbell Bench Press (3 sets, 5 reps) for chest
Standing Military Press (3 sets, 8 reps) for shoulders
Barbell Deadlift (3 sets, 5 reps) for hamstrings
Hammer Curls (3 sets, 5 reps) for biceps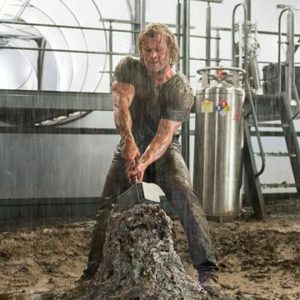 Chris Hemsworth Workout Video
Chris Hemsworth Diet Plan
Weight Loss Diet
Hemsworth was on a calorie-deficit diet, comprising minimum amounts of carbohydrates and protein to burn off body fat. He ate plenty of vegetables and drank lots of water.
Breakfast: 2 coconut pancakes, 1 cup yogurt, 1 cup mixed berries, 1 cup black coffee, 2 liters water
Lunch: 2 eggs, 1/2 cup mushrooms, 1/2 cup spinach, 2 liters water
Dinner: Corn, bok choy, bell pepper, green beans, 2 liters water
Snack: Fruits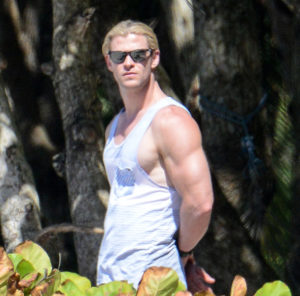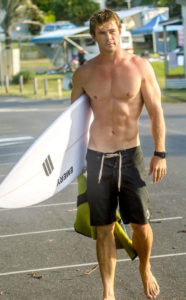 Bulking Up Diet
Nutritionally, Hemsworth had to be efficient to look imposing as the God of Thunder. He had to be strategic with food, bulking up for 8 weeks and then gradually cutting down for a month or so. He ate brown rice, quinoa, fruits, and vegetables including lots of broccoli.
Breakfast: 1 cup oatmeal, 1 banana, 1/2 cup sultanas, fat-free milk, 4 egg whites, 1 egg, 50 g cheese, protein shake, orange juice
Brunch: Cottage cheese, turkey roll, mixed nuts, protein shake, yogurt
Snacks: Beef jerky
Lunch: 3 chicken breasts, 100 g brown rice, 1 cup broccoli, 1 cup kidney beans, 1 glass of fat-free milk
Dinner: 3 salmon fillets, 100 g quinoa, 100 g asparagus, a glass of fat-free milk, yogurt
Supper: 2 boiled eggs, 2 brown bread slices, protein shake