The Roman chair leg raise, performed with the essential gym equipment called a Roman chair, is an intense strength-building exercise that targets your core muscles. Like the free-hanging variation of leg raise, the initial part of the movement involves the hip flexors. As the thighs are raised, it helps in tightening your abs.
Roman Chair Leg Raise Benefits
It assists in toning and increasing the strength of the abdominal muscles.
It effectively improves your grip and upper body strength.
Roman Chair Leg Raise Exercise Information

Other Names
Roman Chair Straight Leg Raise, Captain's Chair Leg Raise
Exercise Type
Strength
Skill Level
Intermediate
Equipment Needed
Roman Chair
Muscles Worked
Primary: Abdominals; Secondary: Hips, Obliques, Lats, Arms
Mechanics
Isolation
Force
Pull
Alternative Forms/Substitute
Hanging Leg Raises, Hanging Leg Raise/Knee Raise with Twist
How to do Roman Chair Leg Raise
Position yourself onto the upright roman chair with the help of foot supports.
Keep your torso straight, press the lower back against the backrest, and rest your forearms on the arm pads. Make sure the arms are bent at an angle of 90 degrees. It is your starting position.
Lift your knees up by flexing at your hips, while keeping the legs extended. For maximum contraction, bring your thighs past parallel and hold the position for a second.
Slowly reverse the movement to go back to the initial position.
Repeat the above steps for the desired number of reps.
While the easier variation involves flexing the hips and knees to raise the legs, the difficulty of the movement increases when you keep the legs extended throughout the exercise.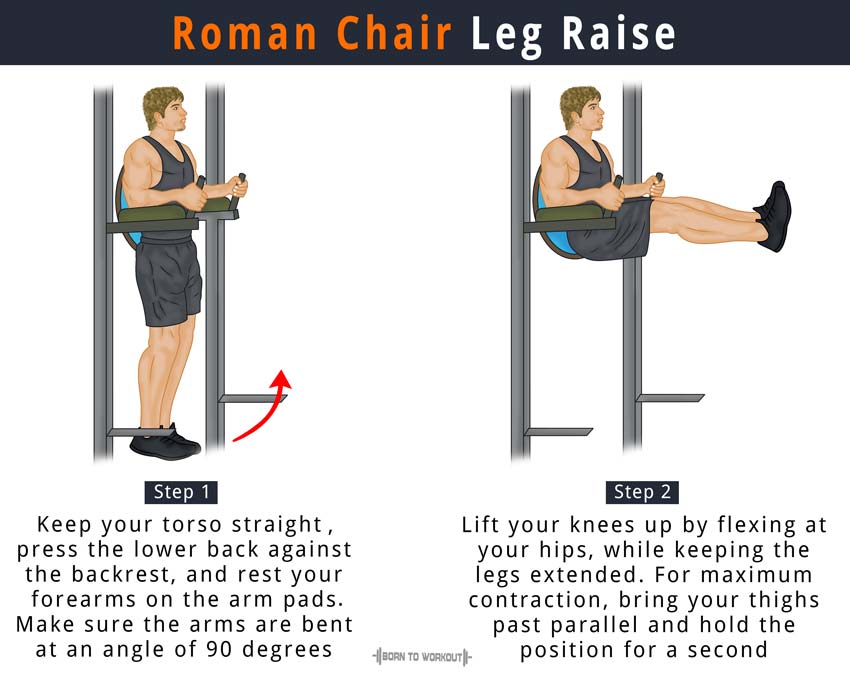 Roman Chair Leg Raises Tips
Do not use your body's momentum to perform this exercise.
Keep your elbows directly under the shoulders while doing the workout.
Tighten your core muscles before lifting the legs up.
Video: Roman Chair Leg Raise for Abs