Abdul Rashid Salim Salman Khan, popular as Salman Khan, is the superstar of Indian cinema who has inspired many with his extraordinary body. Nicknamed as the "Shirtless Wonder" of Bollywood, Salman is a fitness freak who does not like to skip his workout routine. When he has a tight schedule, he may choose to exercise at 2 am in the night. This speaks for the discipline and dedication that has earned him so much fame and success in his career. Let us find out more about the fitness secret of this famous Indian actor.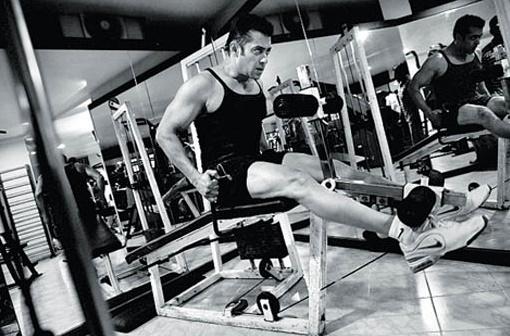 Salman Khan Diet Plan
Earlier Salman had a special interest in spicy Indian and Italian foods. Pav bhajis, ice creams, and pizzas were his favorite. When he appointed Manish Advilkar as his gym trainer, Salman's diet and exercise schedule was completely restructured to achieve the best possible results. He now has a protein-rich diet comprising fish, egg white, meat, and milk to complement his intense workout regimen. According to Salman, the kind of food you eat is as important to the body as your workout. Therefore, he not just concentrates on an extensive exercise routine but also avoids processed and sugary foods of all types. He burns 3000 calories each day with his rigorous workouts.
Salman Khan Diet Chart
Breakfast: 4 egg whites with low-fat milk
Pre-workout: 2 egg whites, amino acid tablets, protein shake
Post workout: Almonds, oats, 3 egg whites, protein bar
Lunch: Veggies with salad, 5 chapatis
Snack: Protein bar, nuts including almonds
Dinner: Vegan soup, fish/chicken, 2 egg whites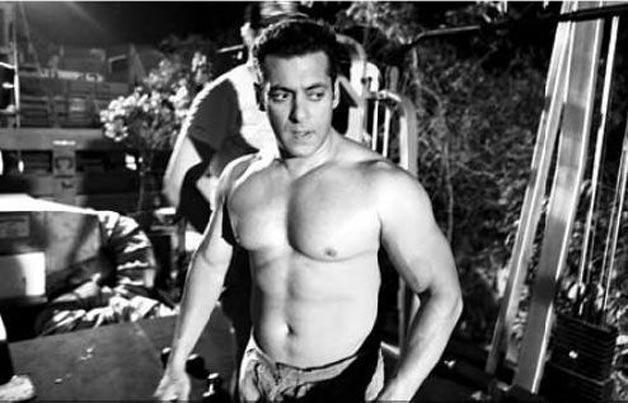 Salman Khan Workout Plan
We already had a glimpse of Salman's magnificent body in movies such as Wanted, Veer, and Kick. Remarkably, the superstar has maintained his astounding physique for the last 20 years. So, what is the secret behind his strong, muscular body? His fitness trainer has revealed that Salman is a hard working guy who does some unbelievable stuff that many would not even dare to try. He does 2000 sit-ups, 1000 push-ups, or 500 abdominal crunches daily. He trains for a minimum of 3 hours each day. While in the gym, he concentrates on exercising his abs, biceps, and triceps. He loves cycling and jogging and may cycle for 10kms a day.
Salman Khan Bodybuilding Video
Salman Khan Body Stats
Height: 1.74 m (5' 8")
Weight: 179 lbs (81 kg)
Chest: 46"
Waist: 32"
Biceps: 17"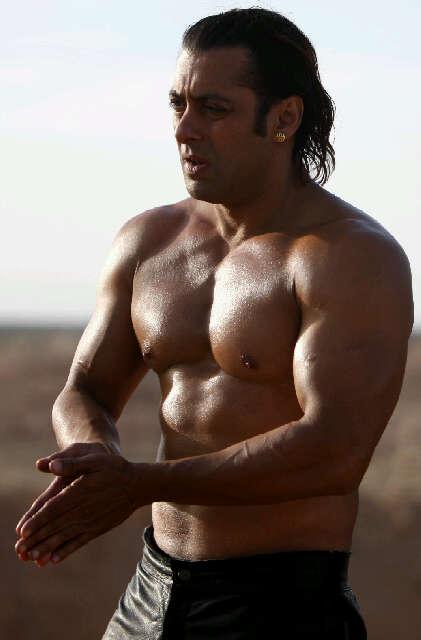 Salman Khan Workout Schedule
On Monday, Wednesday, and Friday, he mainly concentrates on weight training.
He warms up by doing exercises such as jumping, squat thrusts, and push-ups
Follows them up with dead-lifts that are necessary for the development of leg as well as back muscles
Bench Press (both inclined and flat) for the biceps and chest muscles
Then he does the shoulder push press
He does 4 sets of exercises for the smaller muscles with 6-8 reps while 6 sets of exercises for the large muscles are done with 12-14 reps
Concludes his training session by slowly jogging on a treadmill
On Tuesday, Thursday, and Saturday, his focus shifts to abs and cardio exercises
Starts with a 15-minute running session on the treadmill
Follows it up with 3-5 abs circuit comprising back extensions, side planks, crunches, and reverse crunches, which are repeated 25 times
Then he does around 1000 sit-ups
Ends the session with an hour of cardio
On Sunday, he takes rest.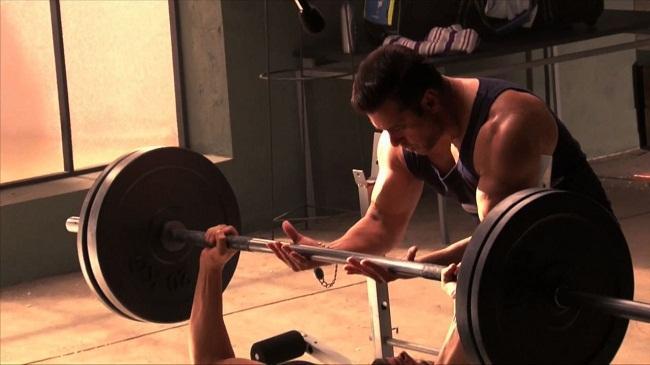 Salman Khan Bodybuilding Tips
Staying fit and vibrant like Salman Khan is not easy
You should have determination, devotion, and dedication
A disciplined workout schedule along with a planned dietary habit is necessary
Try to dedicate 2-3 hours a day for the exercises
Cycling and swimming are as important as hitting the gym
Follow a strict lifestyle and eat the right foods to maintain your physique