Tom Hardy is known for the alpha male roles that he has donned over the years, and a lot of that has come because of his stone-carved body. He has bulked up for roles like Charles Bronson in Bronson and Bane in The Dark Knight Rises and has got ripped for roles like Tommy Conlon in Warrior.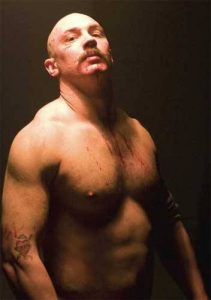 Tom Hardy Physical Stats
Ever wondered how big Tom Hardy is? The stats below will give a clear picture!
Height- 5'10"; Weight- 178 pounds
Chest: 45"; Waist: 34"
Biceps: 16"
Tom Hardy Workout Routine
Tom Hardy trusts his training entirely to his long-time coach Patrick 'P-Nut Monroe'. Patrick believes in a system of training he calls 'signaling' in which the body is trained throughout the day up to four times in small bursts.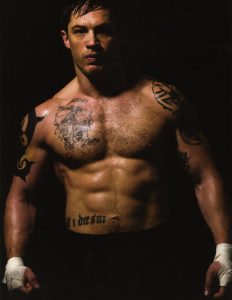 Tom Hardy Bronson Workout Plan
For the role of Charles Bronson, Hardy concentrated more on bodyweight exercises like pull ups, press ups, push ups and ab workouts. He had to gain weight and his nutrition mainly included a lot of carbs and protein.
Tom Hardy MMA Warrior Workout
For Warrior, Hardy had to gain about 27 pounds of lean muscle mass and also get ripped. Following his trainer's schedule of 'signaling,' Hardy's routine was divided into four phase of the day- morning, afternoon, evening and night. For each session, he trained for not more than twenty with medium-light heavyweights to maintain an athlete's fitness.
1 set of 10 reps of each variation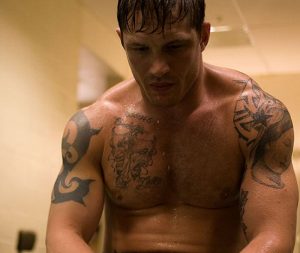 Press Ups
Hands under shoulders
Fingers and palms joined to form a diamond shape
Hands wider than shoulder-width
With clenched fists
Shoulder Flyes
Dips
The Bridge ( four stages with neck)
Abdominal Routine (four stages)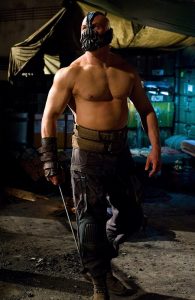 Tom Hardy Bane Workout
When Hardy played Bane, he had to be more bulky than what he looked in Warrior, but leaner than Bronson. After going through a gruesome training plan, he was weighing around 195-198 pounds of pure muscle.
Day 1: Chest and Triceps
3 sets of 8-10 reps
Incline Dumbbell Chest Press
Barbell Bench Press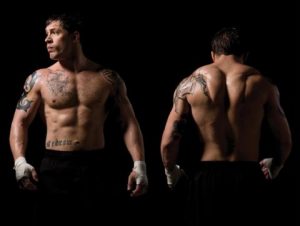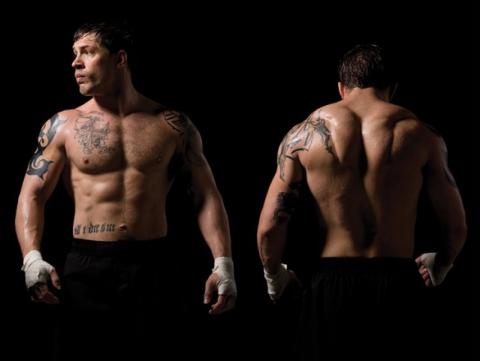 4 sets of 8-10 reps
Low Cable Fly
Decline Skull Crusher
Dips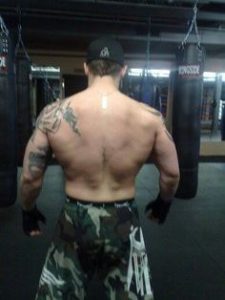 Day 2: Lower Body
5 sets of 5 reps
Barbell Squat
Barbell Deadlift
3 sets of 8-12 reps
Dumbbell Step Ups
Dumbbell Lunge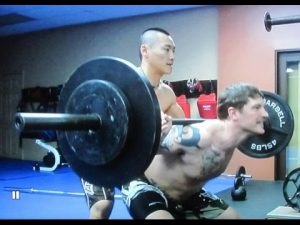 3 sets of 15-20 reps
Day 3: Traps and Shoulders
5 sets of 5 reps
Barbell Row
Barbell Shrug
Dumbbell Shoulder Press
4 sets of 12 reps
Seated Dumbbell Shrug
Dumbbell Lateral Raise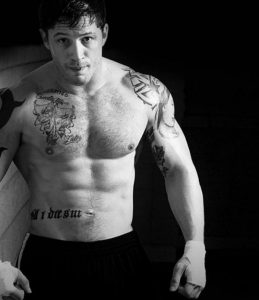 Day 4: Back and Biceps
5 sets of 5 reps
3 sets of 12-15 reps
Underhand Grip Lat Pulldown
Barbell Curl
Dumbbell Palms-Up Curl
Tom Hardy Workout Video
Tom Hardy Diet
During his preparation for Warrior, Hardy consumed 5-6 meals of lean protein and complex carbohydrates like chicken, fish, vegetables and oats.
This, however, drastically changed when he had to put on bulk for the role of Batman in Dark Knight Rises. His diet included lots of carbs, milk, protein shakes, and other supplements.